Topaz Japanese American WWII Confinement Site
Welcome to the Topaz Museum in Delta, Utah. Our guiding principles are to preserve the nearby Topaz incarceration site and its World War II history; to interpret the impact of Topaz on the Japanese Americans who were confined there, their families, and the people living in Millard County; and to educate people to help prevent what happened during World War II at Topaz from ever happening again.
This website contains information about Topaz, one of the ten War Relocation Authority confinement sites, which was located 16 miles northwest of Delta in central Utah, on the lip of the Great Basin. Topaz had a peak population of 8,100 and recorded 11,212 people processed through the camp while it was in operation from September 11, 1942 to October 31, 1945.
The Topaz site is located at 10,750 West and 4500 North and extends for a mile south and west. It is privately owned and protected by the Topaz Museum. We ask that you please read and adhere to our visitation rules, drive only on the roads, and do not remove artifacts.
We recommend visiting the Topaz Museum before traveling to the Topaz site. The Topaz Museum is open Monday through Saturday, 10:00 -5:00, year-round except for New Year's Day, Thanksgiving, Christmas eve, and Christmas. The Topaz Museum is located at 55 West Main in Delta, Utah and our phone number is (435) 864-2514. Admission is by donation.
---
The mass exile and incarceration of Americans of Japanese ancestry during WWII was one of the worst violations of civil rights against citizens in the history of the United States. The government and the U.S. Army, falsely citing "military necessity," removed 125,284 men, women, and children of Japanese ancestry– about two-thirds were American citizens–from their homes on the West Coast and forced them into ten remote camps controlled by the War Relocation Administration (WRA). There were also other types of detention facilities including male-only camps controlled by the Justice Department. None of the people of Japanese ancestry was ever convicted or even charged with sabotage or espionage, yet they were confined, some up to four years, in camps surrounded by barbed wire and armed guards.
Incarcerees could apply for clearance and leave the camps to go east for college or jobs as early as the summer of 1942, but the West Coast was off-limits until January 1945.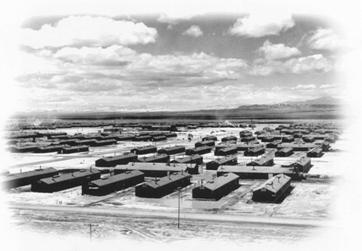 The findings of the 1982 federal Commission on Wartime Relocation and Internment of Civilians found three causes for the injustice: "race prejudice, war hysteria and a failure of political leadership."
After President Ronald Reagan signed the Civil Liberties Act of 1988, President George H.W. Bush issued a formal apology and monetary compensation to all living survivors. The events and causes of this tragic page in history must never be forgotten. If we can understand what occurred and why, we can be more vigilant to make certain a similar denial of civil rights will never happen to any other Americans.